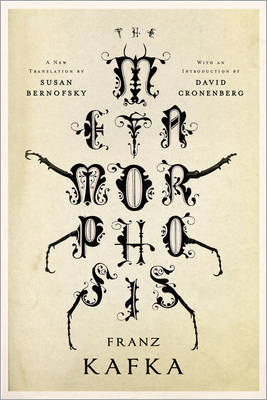 By Franz Kafka 
Originally Published: 1915 by Kurt Wolff Verlag, Leipzig
This edition: 18th February 2014 by WW Norton & Co
Yippee – There's also a 49 p Kindle edition!
Rating: 👾 👾 👾 👾 👾 👾 👾 
Synopsis: Gregor Samsa wakes one morning to find himself transformed into a gigantic grotesque insect. Kafka's macabre tale follows Gregor through his ordeal as he struggles to come to terms with his new disorientating anatomy while retaining his human mind. Kafka also delves into the reactions of Gregor's family to his new insectile life.    
💜

What I loved

💜
Gregor Samsa is a very sympathetic character. His immediate concern on finding himself completely altered is not 'why me?' but how he can get up and go to work to provide for his family. Kafka hints at Gregor's despondency with his job and the shadow of isolation he already felt creeping over him before his transformation. Still, Gregor is determined to get to work, despite the fact he has sprouted numerous new appendages that he has yet to master.
Throughout the story, Gregor thinks of the affect his ghastly appearance has on his family and hides from his sister when she comes to feed him, even though he cries out for companionship. Gregor's devotion to his sister in unwavering. He reveals that he has been saving to send his sister to the conservatory to fulfil her dream of becoming a violinist. Even as his sister distances herself from him, eventually becoming repulsed by the very thought of him, she remains as a shaft of light in his darkened room, a beam of hope. When hearing her play the violin he feels "as if he were being shown the way to the unknown nourishment he longed for." Even thought they view him with suspicion and derision, Gregor recalls his family 'with affection and love.'
While Kafka describes how Gregor moves and his thin, fragile legs, we never get a real ideal of which insect Gregor has changed into let alone why he has turned into one! I admire this tract which lets the reader speculate on why this has happened to seemingly generous and kind man. Personally, I picture him as a glossy dung-beetle, burly and wide but scuttling assuredly. Sorry Gregor!
💀
Bad Bits

 💀

There was very little I disliked about the story. I do wish it could've been longer and I felt Gregor's family's reaction to his metamorphosis was icy and detached. However, it's clear that Kafka was exploring the boundaries of human compassion. Gregor's family have no idea he has retained his human mind and, to them,  the Gregor they knew is lost. All that is left is abhorrent usurper that forces them all into hard labour and seemingly threatens their safety. It definitely left me to think: at what point would I give up on a family member in a similar situation? Hmmm.
🌟
Cherished Character

🌟

It has to be Gregor himself. His exploration of isolation and detachment from society moved me and his wretched battle to cleave to his humanity was, at times, harrowing and heart-rending.
🐙
Magical Moment

🐙

The iconic opening lines: "When Gregor Samsa awoke from troubled dreams one morning, he found that he had been transformed in his bed into an enormous bug." 

It's a Silver Bear award for The Metamorphosis!